Automotive retail finds itself in a disorienting position these days. After robust new vehicle sales in 2019, automakers entered the following year with cautious optimism and instead met sheer mayhem. Now, more than a year after the pandemic's crest, the wheels of industry struggle to pick up speed – waylaid by kinks in the supply chain.
For car buyers, this dizzying scenario translates to significantly less power of choice at purchase time. Inventory shortages have left dealership lots barren, simultaneously driving up vehicle prices. However, despite hurdles, consumers still clamor for product – namely crossovers, SUVs, and pickup trucks. As the hottest segments for the specialty equipment industry, increased interest in these vehicles translates to increased sales in aftermarket parts.
Growth Mindset
In a joint forecast with the Auto Care Association, the Automotive Aftermarket Suppliers Association estimates total U.S. light-duty automotive aftermarket sales will increase 11.2% in 2021, totaling $325 billion. An additional 5.3% growth is expected for 2022, with 2023 and 2024 expected to grow more than 4%. Altogether, these boosts will bring the light-duty aftermarket to roughly $372 billion.
"People don't want their cars to look like everybody else's, and that will always allow restylers and industry professionals to lend a hand in customizing vehicles," said Josh Poulson, principal of Auto Additions in Westerville, Ohio and Chair-Elect of the Professional Restylers Organization (PRO). PRO is a SEMA council dedicated to addressing challenges facing the restyling segment of the automotive aftermarket. The group also works to develop effective strategies for dealing with industry-specific issues.
Recently, Poulson sat down for a candid discussion on the state of restyling in 2021's post-COVID landscape. Below are his insights on how the industry is navigating current and future challenges, what kind of opportunities lie ahead, and why restylers should learn to embrace all the change that comes their way.
Q: Let's talk inventory levels. Both new and used have been strained during the last year – with wholesale values skyrocketing. How has that impacted the number of vehicles that dealerships are sending for restyling upgrades?
A: I guess I'm a little bit surprised that we've been as busy as we have been. Usually, when inventory is bad, it hurts our business. It used to be: dealerships would give us vehicles ahead of time and allow us to preload items on them and build a nice-looking package. They haven't been able to do that, just because of the inventory level. However, it's helped us in another way. Now, with some of the features people want – if they can't get it on the vehicle (because it's the only vehicle in stock) we can add it for them. I think at this point, we're kind of breaking even.
Q: Along those same lines, how do you anticipate continued supply chain interruptions to impact not only dealership inventory but also restyling opportunities over the next few years? Do you think it will change the relationship at all? Because dealerships do seem to be heading down that route of maintaining limited inventories.
A: I agree – however I don't think [inventory levels] will ever get as bad as they are now. Dealers may choose to carry less, but they still need to make as much money on every vehicle as they can. So, I think there will still be a preload opportunity, but instead of us picking out maybe five or six of the same color and trim level, we might only pick out one or two.
[Ultimately], dealers know that one of the better ways to make money is by preloading accessories to the inventory on their lot. So, really, the relationship could go stronger, because they need us to fill that gap with the little inventory they do have. Then, they'll also want us to help them make some money on the preloads.
Q: When do you think supply chains will begin to level out?
A: I think it will be at least three or four months of what we're seeing now: a very anemic inventory. Then, it will slowly start to build back up. But it could easily be a year before we start to see pre-pandemic levels. And we may never see those same levels because, as we established, a lot of manufacturers and a lot of car dealerships, they make higher profits now than they ever have — so, why go back to the way they were doing business before?
Q: What do you believe will be some of the most popular vehicle trends in the year ahead, particularly as the industry prepares for 2022/2023 model year vehicles to hit dealer lots?
A: I think one of the new trends you're seeing as new '22 models come out are the blacked-out two-tones, where maybe the roof is black, with black wheels and black trim pieces. I think that will continue for a while. It's a hot item for manufacturers – but they move very slowly, so they're just now coming out with it. And, again, the way they package that type of accessory or look on a vehicle may not be advantageous to a customer. So, the manufacturer shows it can be done and what it'll look like – but it may be a $5,000 upgrade to a higher trim level. Well, we can do it on the base trim level.
I also think we may start to see different style blackouts, too – like matte or satin black, or even a carbon fiber. I think you'll start to see some of those versus just the gloss black.
Q: What do you see as some of the biggest opportunities for the restyling industry, both from the perspective as a business owner in the automotive aftermarket and a leader within SEMA?
A: As far as actual product, I think film products are going to be very popular and continue to be very popular: window film, clear paint protection film, and even wraps – color change or two-toning. I think the traditional restyling is not going away either: the sunroofs, leather interiors, 12V electronics. But I do think more restylers are going to get into the coatings business: ceramic coatings, paint correction, those types of detailing products.
As far as opportunities, I think technology is playing a big part. For example, we use a configurator now that we're going to basically offer to our dealership customers at a very reasonable rate, if not free, depending on sales volume. So, as soon as a shopper decides which car they want, the dealership can simply present an iPad with the top 15-20 accessories that go with that vehicle and the customer can add them to a car. Then, we receive all that information immediately.
I think being part of the digital age, you have to grow. As we become more menu-based consumers – just with life – we have to do that with accessories, too. That's one of the things I'm pushing really hard for my company.
Q: On the other side of the coin, what are some of the biggest challenges you see the restyling industry grappling with right now?
A: Cars are just getting more and more complicated. You simply can't take cars apart like you used to, put them back together, and hope everything's going to be okay. We have to rely heavily on our product manufacturers – that have hopefully done enough research and development – to tell us what we can and can't do when we're working on vehicles. Of course, we want to be proactive with our technicians too, but we need to know from our manufacturers: Is this going to affect any ADAS on the vehicle? Are we doing anything that might be unsafe?
Q: Are you having a hard time finding qualified technicians right now? That seems to be a current pain-point for much of the industry.
A: It's always a challenge. Fortunately, we've got a pretty good core team. Plus, it's a little bit different from a mechanic at a dealership. We have an advantage – people like doing our stuff. We're not just getting our hands dirty, fixing problems. We're usually making something look really cool. So, we try to use that to our advantage to bring in some talent, and then we also try to cross-train our employees, so if somebody does leave, we're not just left empty-handed.
Q: How do you feel about the recent boom in electric trucks? The Ford Lightning just debuted and already 70,000 reservations were put down. We're seeing the Rivian R1T getting a lot of buzz. There just seems to be a lot of interest there. Do you think that will be more of an opportunity for restyling or a challenge because those vehicles will be more complex?
A: Well, first, I don't think it will be a main part of the market for quite a while. The majority is still going to be combustion engines. But a lot of what I've seen so far – and we deal with a fair number of electric vehicles – the restyling is really not that much different. Take that Ford F-150. Just because the engine's electric, doesn't mean the owner won't need a tonneau cover for the bed or a set of step bars to get into the vehicle. There's still a lot of accessories that we deal with on a day-to-day basis – film products, ceramic coatings – that aren't really affected whether it's a gas or electric vehicle. For us, as we move forward over the next decade or two, we're fortunate that we're still able to make those same vehicles look different and get them the accessories they want.
Q: I know you often have to work around safety sensors and cameras, being careful not to throw something out of calibration. Do you think that will complicate some of these restyling modifications?
A: It is a constant battle, yes. And as we see the technology go more mainstream, we will run into more of those problems. However, from what I've seen so far in the EV space, there isn't anything special that we need to be careful of in that regard.
Q:How are you working through the challenges you do have? You mentioned keeping manufacturers close, to help navigate the complexity of modern cars. What are some other ways you're tackling current obstacles?
A: Relationships are key – not only with manufacturers, but also with customers. Knowing that there may be a mistake that comes up, how do we correct it? If you don't have those relationships set in place, it could be detrimental to a business.
One big thing we've also done is just slowing down, being a little more cautious – especially as we get into new, different vehicles. We double check things, ask more questions, we consult manufacturer instructions on how to properly do things. We ask our technicians to double check installation guides, even if it's just a newer vehicle that they haven't worked with in a while. Because, sometimes, a manufacturer will carry over a part number, but instead of printing a whole new install guide, they'll put in a little asterisk: Oh, by the way, on this particular vehicle, don't do this, this, and this. If you don't slow down, you can miss that.
We ask our sales people to take the same precautions: slowing down, confirming things – and don't promise anything! We just had a customer the other day: "Hey, can you do this on a '22 Hyundai Tucson?" Well, we can try. We can look at it. It looks like it would be the same, but I really can't tell you until we go in there to do it. It's just a matter of being honest with people, instead of telling them what they want to hear.
Q: Obviously, we've learned a lot in the last year – about every industry and the economy at large. I'm curious what you feel are some important lessons automotive professionals can take away from the struggles of the past year? What are some lessons you learned along the way?
A: You have to deal with technology and you have to embrace it. Who among us would have thought a year and half ago that we'd be on multiple Zoom calls a week? Even when there was a little bit of a scare wondering how people are ever going to buy a car if they can't go into the showroom. Well, a lot of that has changed – and maybe not as badly as we thought it would. So, how do we take advantage of that? Well, tech like the digital menu system, the configurator. People are going to embrace those now because of how everything digitally has been pushed forward because of the pandemic.
I think there's good opportunity for us now, before this new technology becomes totally mainstream, to get people trained in the direction we want them to, versus wherever they're led.
Q: Even outside of the pandemic, the industry is experiencing such a big key change right now. EVs, AVs, ADAS, the technician talent gap, all the private equity companies and SPAC firms coming in – it just seems like now is the time to stay nimble. As a member of the industry and of SEMA, can you talk through the importance of looking ahead, planning out a road map, but most importantly knowing when and how to pivot?
A: First of all, you can't be afraid of change – and you always have to be looking for the new opportunity. If there's a product that you've seen, you know about, you've talked to your peers about, and you're still not doing? Now's the time to jump into it.
There are some products or services that restylers may say: 'I just don't have the time for it right now, or the right technician for it, or I don't have the space for it.' But you have to start pivoting into those things and resetting yourself to a certain degree. It keeps you in contact with your customers – because they are going to eventually ask for those things. And you don't want to be waiting for a customer to ask; you want to be ready before they ask.
I think you just have to be more open-minded than in times past. Don't just prejudge something because of the way it was going to work 5-10 years ago – or even 3 years ago. You have to give everything an opportunity, because you never know where your next homerun is going to be.
Q: I'd like to unpack how you've watched these changes unfold: in the industry, in your own business, and in SEMA. From a restyling perspective, what are some ways you see the industry adapting and evolving — laying that groundwork so that it can pivot successfully?
A: Well, for SEMA, I think last year's show being replaced by the digital SEMA360 event and all the virtual education was telling. Even though we look at it and think it wasn't as successful as a "real" show or an in-person event, as we move forward, SEMA itself will need to stay very virtual.
Part of SEMA's issue is they're often only known for a show that lasts four days out of a year. So, for them to be relevant and stay up to speed, they need to be providing virtual education to their members year-round. Otherwise, a person waits until one day to go to a seminar at the SEMA Show and then they're overblown by everything else going on that week. The education falls to the back burner. Digitally, we can be anywhere at any time, we can do things on our time, and we can find information when we want it and consume it then.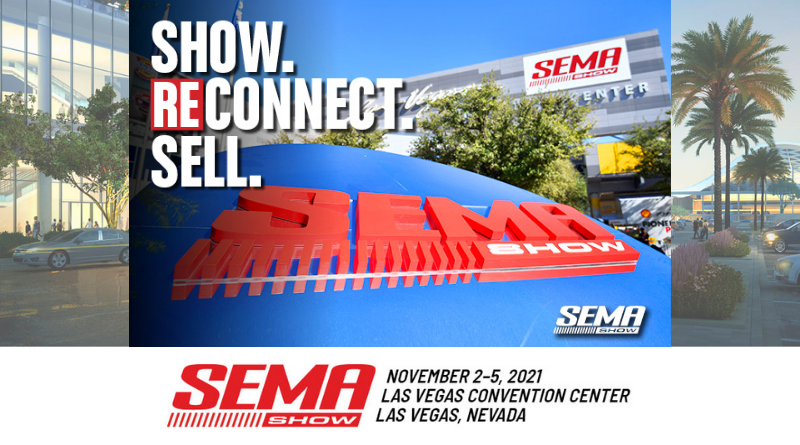 Q: And for you and your fellow restylers?
For restylers, I can see ten years from now – or maybe sooner – you're going to go on your computer, pick out your car, pick out the accessories, pick out your payment, and then you're going to show up to the dealership and it's going to be there. If we're not integrated with our dealers now to do those things, we could easily be obsolete. Our consumers are getting younger, and the people selling the vehicles are getting younger.
At our own business, we felt it was time to get our own app. Customers can log in – one time – and from then on out, get wholesale and retail prices. Nobody needed their own app 5-10 years ago – we were a restyling shop, why would we need an app? But now, we feel the amount of people expecting to have information at their fingertips is so high, that we just developed an app to make sure it happened that way. A lot of dealers use that as a tool, and the younger generation, in particular, loves it. Now we're a valuable partner to them, not only for the product we use, but also for the way they can get our product. Consumers love convenience, and they will always turn to the person who is offering those conveniences when given the choice.
Ultimately, we need to stop focusing so much on the product we sell, because we're always going to have product – no one's going back to horse and buggy and everyone wants their car to look a little different. The question is how can we grow in the way we present these products and sell these products, more so than the products themselves?