Like many, longtime San Francisco resident and metal worker Kevin Craford found himself jobless amid the global pandemic. As shelter-in-place went into effect, Craford was left confined to a small apartment in one of the most expensive cities in the country. He promptly decided to self-isolate in the wilderness and began researching which national parks were still open to the public. His best option just so happened to be the hottest place on Earth.
Over the last two decades, over a dozen people have died in Death Valley from heat-related illnesses. Many others have come close. If there was anything he could afford to skimp out on, his defense against the sun was surely not it.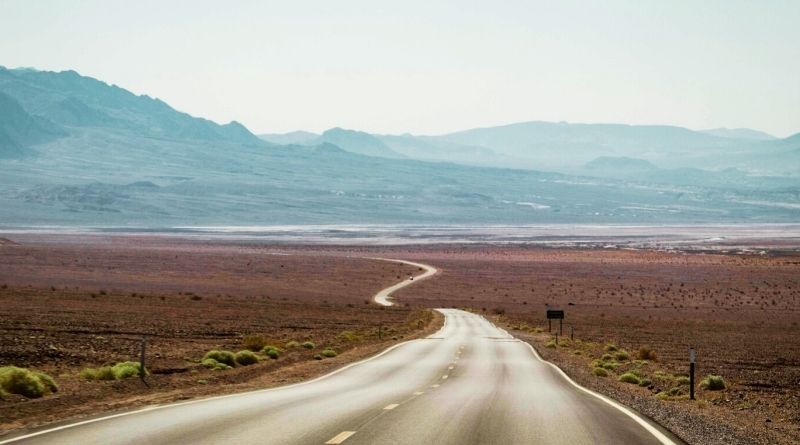 That evening, Craford researched mobile shade structures but was quickly disappointed by what he found. There were surprisingly limited options, and the few that did exist were poorly designed and cheaply constructed. Hitches were made of thin gauge steel. They appeared flimsy and sagged off the end of vehicles. The umbrella shaft and canopies were undersized, providing only a drop of shade. The next morning, he purchased the largest patio umbrella he could find and began building one himself.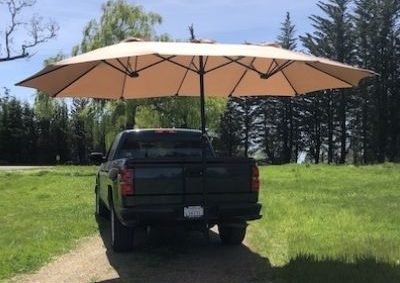 By the end of March, Craford set out into the desert alone, ready to put his design to the ultimate test. This successful product performance in one of the most arid environments in the world encouraged him to think bigger.
Just one year later, Humbra launched to the public.
Shades of Innovation
Could Craford's entrepreneurial mindset from 15 years designing and building custom architectural elements be an asset in the automotive industry? Regardless of the answer, his research proved he was onto something.
Here's what he found:
Pickups and SUVs command new vehicle sales in the U.S. right now. The top three vehicle sales in the U.S. are all pickup trucks (Ford F-150, Dodge Ram and Chevy Silverado). Plus, seven out of 10 best-selling vehicles in the U.S. market either include or offer 2-inch hitch receivers.

The light truck segment (which includes pickups, vans, SUVs and CUVs) is forecast to account for 69% of all new-vehicle sales by 2025.

From 2019-2025, new-truck sales are estimated to rise 10% overall.

According to the most recent SEMA Market Report, pickups make up the majority share of SEM spending, accounting for approximately 27% of the market.

Also, according to the latest SEMA Accessory Opportunity Report, eight of the top 10 vehicles most likely to be accessorized are either pickup trucks, SUVs or Jeeps. 

The U.S. recreational vehicle awnings market size is estimated to reach 1.7 billion USD by 2025, and is projected to grow at a CAGR of 4.2% from 2018 to 2025, according to a recent report by Million Insights. The reason being greater vehicle versatility and weather protection. Vehicle awnings allow users to more comfortably enjoy the surroundings outside their vehicles and to use their vehicles as an effective anchoring station for system deployment.
In this Q&A, Craford shares his insights on the mobile sun protection market since launching his business. He also breaks down Humbra's strategy and his plans to evolve at both a product and operational level.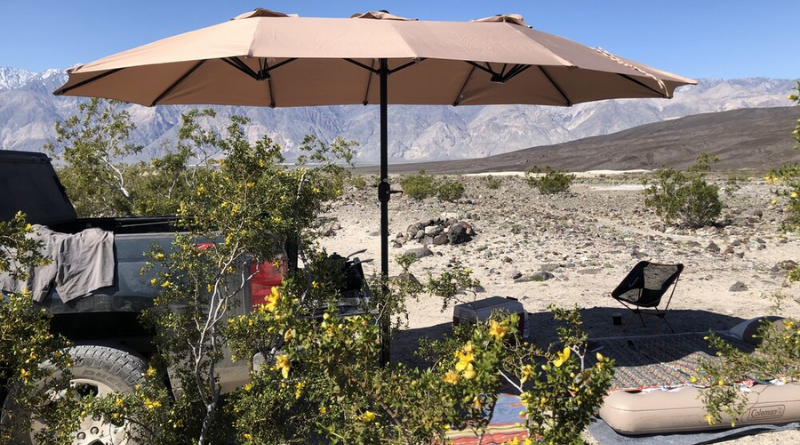 Q: What does your research on expanding consumer trends indicate?
A: Expanding consumer trends towards an active lifestyle can present lucrative growth opportunities. Consumers are increasingly focused on an active lifestyle. This is due to rising disposable income, which has led to increased spending on sports and leisure activities. More consumers are traveling, camping, biking, etc. and thus seeking suitable accessories to carry their sport/travel gear. They also use their vehicles as extensions of their homes. As a result, truck/SUV accessories such as awnings, roof racks, bike racks, and cargo boxes have experienced massive demand. Manufacturers in the market can capitalize on these opportunities and gain a competitive edge in the market.
Q: What are some potential end-users for this product?

 
A: End users for this product are numerous, but we find males between the ages of 25-55 to be roughly 90% of our key demographic. We are targeting potential end-users who own trucks and/or SUVs, and who are increasingly using their vehicles for recreational purposes.
We also identified significant interest and need in the commercial sphere. Occupations such as traffic control companies, construction, HVAC, plumbing and pipe welding are a few professions that often use their vehicles as workstations to perform various types of onsite tasks. Several business owners within these respective fields told me they currently use pop-up canopies to provide shelter from both sun and rain when performing jobs from their service vehicles. All of them articulated in one form or another that they are cumbersome to use. The time it takes to put up and take down ultimately affects their bottom line.
Q: Given your research, how were you able to simplify and improve the design to expand its level of performance?
A: Using the "less is more" concept, there were three significant factors that I thought to improve. First, reducing the amount of necessary hardware to install and support the canopy. Second, overall ease of use. And, third, adapting greater versatility to the system by implementing the aforementioned benefits.
Side-mounted vehicle awning systems live on your vehicle, require at least a dozen pieces of hardware and can be complicated to install. Additionally, they require that the vehicle has a material rack to support the fixture. This commonly negates the most prominent and massive segment within the market: the pickup truck. In certain environments where there is limited space — such as tailgating in a parking lot — these systems cannot be deployed.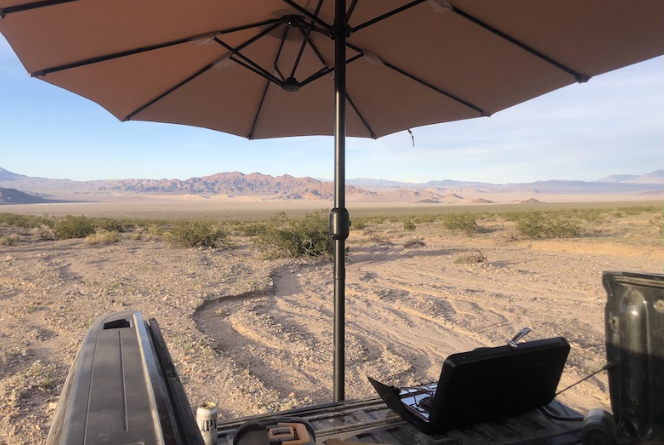 Q: What is your current consumer demand?
We launched with a robust start, selling 5x in the second month and tracking to sell 7x in the month of August. With orders coming from all regions of the country, we successfully penetrated multiple sales channels. We sent a Humbra system to an Instagram influencer for product review, and it's already one of his most-liked and most-commented-on posts. These initial results indicate broad market acceptance in both the consumer recreational space and for commercial applications.
Q: Are these products made to order?
The Humbra system is not made to order. We currently have a large inventory of systems in various color options (hitch and parasol) in stock and ready for next-day shipment at time of purchase.
Q: What does manufacturing for Humbra currently look like?
A: We were recently notified by our Patent Attorney that our hitch system received a notice of allowance by the U.S. Patent and Trademark Office, which will be finalized and issued in July 2021. Currently, our hitches are manufactured by a company in Portland, OR. They are constructed using the latest technology in laser cutting, precision welding, and durable powder coat finish. Each unit is handmade and built for a lifetime of use. Our complimentary, massive 15′ x 9′ umbrella is manufactured in China. It is the largest, double-sided umbrella on the market. Although we do not have exclusive rights to the distribution of this umbrella, I incorporated it into our patented design because of its sheer size, portability and the overwhelmingly positive reviews it garnered across multiple sales channels.
Q: How are you fulfilling orders? 
A: We have a Level One, selective distribution chain. Finished Humbra hitches are delivered from manufacturer to distributor (Humbra warehouse located in North Portland). Our warehouse acts as the fulfillment center for packaging, labeling and shipping hitches directly to customers. Umbrellas are bought in bulk from our supplier in Los Angeles, stored at their facility and then drop-shipped directly to customers as orders are received. Ideally, all inventory would be stored and shipped from the same location, but given current logistics, this distribution strategy is the most fiscally sound.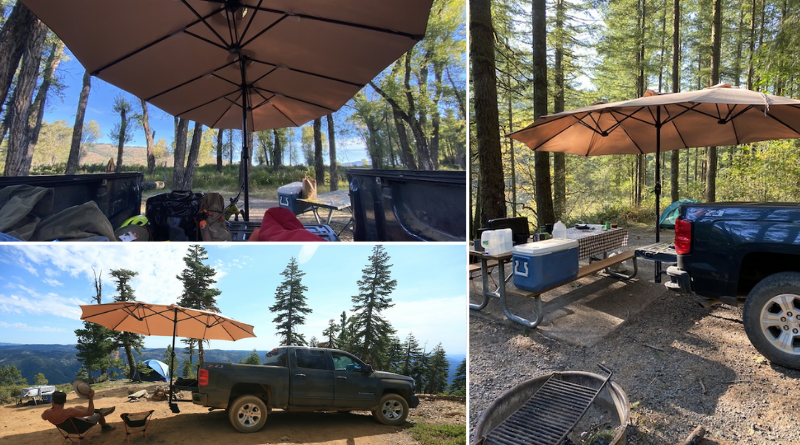 Q: How long was your R&D process? How many iterations did you go through?
A: I built the first prototype in one evening back in March 2020. Since then, it went through one iteration. The original prototype consisted of seven parts and weldments; the latest version is five. Also, the original design had a pin that secured the umbrella to the canopy. However, that feature would require either the umbrella manufacturer or the customer to drill a hole in the shaft of the umbrella. Instead, I decided to use the industry standard of two set screws to secure the umbrella to the Humbra hitch. This change also allows for the umbrella to secure and rotate at any 360-degree position.
Q: What are the next steps in your evolution?
A: At a glance, the current steel hitch will be substituted for aluminum. This will effectively reduce the weight by more than half without compromising any structural integrity. It will also be kinetic, more stowable and versatile.
The umbrella will also be redesigned to be asymmetric, fitted specifically to contour to a vehicle. Not only will it provide sun protection, but it will also be waterproof and highly wind-resistant. There will also be optional materials to enclose the canopy and provide a tent-like atmosphere.
Q: How has your past life as a metal worker informed the way you run your business in the automotive industry?
A: I think my greatest strengths gained from my experience as a metal worker are my acute attention to detail, contemporary design, quality and functionality. Although these aren't characteristics I can solely attribute to entering the automotive industry, they've served as a foundation for nearly everything I create. From my perspective, they are clearly visible when examining the Humbra mobile shade system.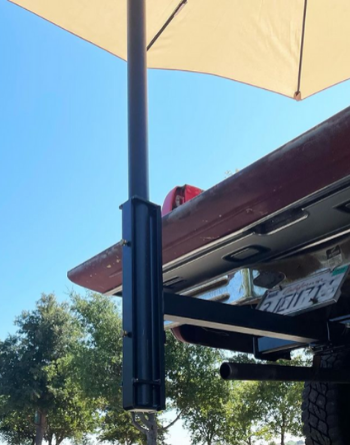 Having an extensive background in high-end architectural design and fabrication for nearly 15 years has lent me an unconventional approach to designing a solution to the mobile shade problem.
For instance, I believe negative space within a structure or form can often be as important as the positive space. I designed the hitch around this concept. My "transparent sleeve" design firmly captures the shaft of the canopy through two points of contact, registering it exactly plumb with the hitch. This design significantly reduces weight and material, and also lends the fixture a more refined, aerodynamic and modern look.
Similarly, the design of the umbrella incorporates a single mounting point as opposed to four, which is standard for all pop-ups. An umbrella's mechanisms are internalized within the canopy, and it does not require additional hardware to secure it. It operates by turning a single crank, and most everyone can easily identify what it is and how to use it.
Optimal design incorporates both form and function.
Q: How do you grow your business without sacrificing the craftsmanship of your product?
A: I intend for every component of the system to be manufactured in the USA. I believe proximity to manufacturing is a key component to our evolution, allowing us a more tailored approach to design and fabrication. This will ensure better oversight, quality control and mitigate any potential disruption in the supply chain.
Q: What are the long-term goals of Humbra?
A: I developed and designed the hitch attachment with one overarching goal in mind: to support and firmly house the shaft of a canopy that does not currently exist in the mobile shade market. This canopy would be larger, more streamlined/geometric, more versatile and more contemporary. I already have a preliminary design and concept in mind that is currently in the rendering stage.
It is my intention to validate proof of concept (utilizing our current design) and approach a U.S. manufacturer this winter to develop a canopy prototype that is optimized and tailored specifically for pickup trucks and expand our market for other vehicles. I envision Humbra to be a tailored canopy system for trucks, vans and SUVs, offering effective sun, wind and rain protection that can easily be transported, mounted to your vehicle and fully erected in under 60 seconds.
It is my full intention to run, grow and expand this business. I believe the level of competition in the industry is moderate and although competitive, no one stands out. There are several mobile shade and awning systems on the market, but can anyone name one? Or better yet, two? No brand has set themselves apart.

We are targeting the vast majority of truck and SUV owners who prefer ease of use, quick installation, durability, attractiveness and competitive pricing. Our system consists of only two parts, three pieces of hardware, can be assembled/disassembled in seconds. Furthermore, it does not "lock" or immobilize your vehicle to a fixed space. There are no ropes, weights or stakes required. I believe this is an untapped market, and one that, given current consumer and commercial demand, is primed for growth and innovation.
To learn more, visit https://humbrausa.com/